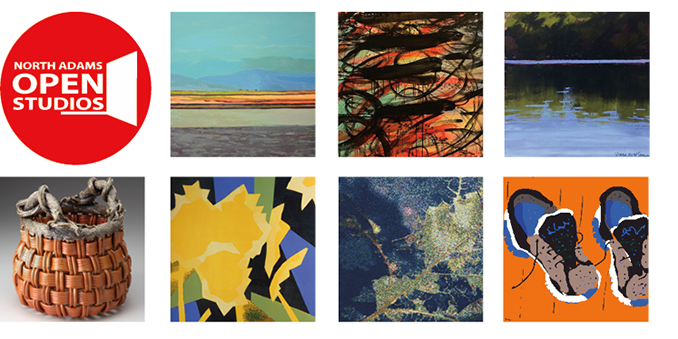 North Adams, Mass.—Eclipse Mill Artist Lofts will host the 16th annual North Adams Open Studios on Saturday, October 19 and Sunday, October 20, from 11 am to 5 pm both days.  There will be more than fifteen artists displaying their work. The event is free and fully handicap accessible. The Eclipse Mill is at 243 Union Street, North Adams.
Current list of participating EM artists and businesses: (check back for updates)
ARTIST NAME / MEDIUM                                                         LOFT
Ed Carson                                                                                          401

Sharon Carson                                                                                   401
Julia Dixon                                                                                         407
Peggy Schiffer and Sam Noland                                                      301
Liz Cunningham                                                                               306
Debi Pendell                                                                                       205
Sarah Sutro                                                                                        203
Dawn Nelson                                                                                      204
Rick Harlow artist  /  loft for sale                                                   207
Betty Vera                                                                                          210
Eclipse Mill Gallery: Fugues  & Preludes                                       102
Gail & Phil Sellers / River Hill Pottery                                          104
Mary Weissbrodt                                                                              104
Brill Gallery / Ralph Brill                                                                109
"This is a great chance for the public to meet artists in the studios where they work," said Gail Sellers, one of this year's participants.   "There are so many different types of artists here, from painters, sculptors, potters and fiber artists, to collage artists and printmakers. It's an opportunity to meet with them, learn about their work, and purchase work directly from them."
The Eclipse Mill, a former cotton mill built in 1896, is home to a variety of artists and creative businesses, including G.J. Askins Bookseller, River Hill Pottery, and Brill Gallery. There is artwork on display throughout the Mill.
The annual North Adams Open Studios has been supported by the Massachusetts Cultural Council, with additional support from MASSMoca, the City of North Adams, MCLA's Berkshire Cultural Resource Center, and Beck's Printing.