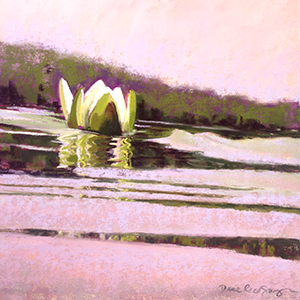 Note from the pandemic—
My art has always been a refuge for me in difficult times. But as the pandemic took hold a year ago this spring, it didn't feel right to continue with my usual practice. Along with the tragedy, upheaval, and loss that engulfed us, the lockdown created an opportunity—a place of stillness and quiet.

I had been wanting to explore other materials, and chose to take a leap and learn about working with oil and cold-wax. It has been liberating to be out of my comfort zone. I find myself immersed in the experience— layering and scraping back, experimenting with texture and color, and reworking until something begins to emerge. Well into the process, I begin to get a sense of where the painting is going.

During the summer of 2020, while our gallery was closed to the public, five mill artists mounted an online show—IMPROMPTU—which speaks to our experience of the first round of Covid-19.

Over this past winter of 2021 a group of five gathered to work together on five series named for their prompts: chair . arch . wave . oval . box. We met every week for three months, discussing and sharing our latest additions to our collaborative work. It was such a relief to be in close communication, and open to experimentation and play.

See both shows online at: eclipsegalleryonline.com/
Artist Statement
Although I have worked in a variety of media, I am best known for my work in soft pastel. I began working with pastel about 10 years ago and love their intensity and luminosity. I enjoy experimenting and pushing the medium to see how far it can go—working on hand-made surfaces, and combining pastels with charcoal, oil, acrylic, and other media.
My recent 'Aerial Series' is inspired by the view of the earth from above, typically the window of a commercial flight. During a night flight patterns of light illuminate the world below us, tracing an intricate web of connection stretching into the distance. Some of what we see is identifiable but much is ambiguous, hidden, and imagined.
These aerial images resonate with me on many levels. As I explore this series further I have become interested in the parallel between this selectively illuminated world and current political rhetoric—glorifying power, exploitation, and rampant consumption. Hidden behind the bright lights is a more complex reality. What is the impact of these values on our lives and the increasingly fragile world we live in?
I enjoy working on this series, decoding what I can, but leaving levels of ambiguity to explore. I offer the viewer an invitation to investigate the space between what is known and unknown, being curious about what is, and imagining what could be.
My Aerial Series is featured in an article in Pastel Journal's December 2018 Issue.
EDUCATION/BACKGROUND:
Bachelor of Fine Arts, Boston Museum School in association with Tufts University
Additional coursework: Bennington College, MassArt, Boston Museum School
REPRESENTED BY:
Real Eyes Gallery, Adams, MA
Francesca Anderson Fine Arts, Lexington, MA
MEMBERSHIPS:
Signature Member: Pastel Society of America (PSA)
Signature member: Pastel Society of Cape Cod (PPSCC)
RECENT AWARDS:
Connecticut Pastel Society (CPS), Renaissance in Pastels, Great American Pastels Award, November 2020
Pastel Society of America (PSA), Enduring Brilliance, Salmagundi Award, September 2019
Pastel Society of Cape Cod (PPSCC), For Pastel's Only, Liz Haywood-Sullivan Award, July 2019
Connecticut Pastel Society (CPS), Renaissance in Pastels, Pastel Society of America Award, November 2018
Pastel Society of Cape Cod (PPSCC), For Pastel's Only, Dakota Art Pastels Award, June 2018
South Shore Arts Center (SSAC), Summer Arts Festival 2017, Second Place, Drawing and Pastels, June 2017
SSAC, Entryways, National Juried Show, Third Place, January 2017
PPSCC, Member Show, Second Place, October 2016
CPS, Purely Pastel, Bronze Award for Excellence, June 2016
UArt 2015 National Online Juried Competition, Best in Show, August 2015
CPS, Renaissance in Pastels, Judith Walo Memorial Award, October 2015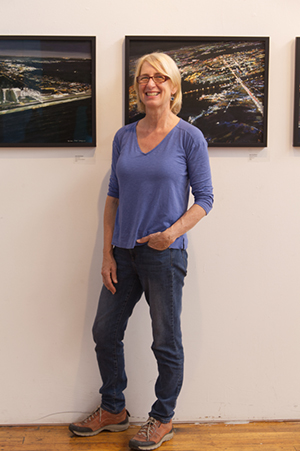 Diane at the installation of the show
Parallels and Intersections at the
Sprinkler Factory Gallery in the fall of 2019.