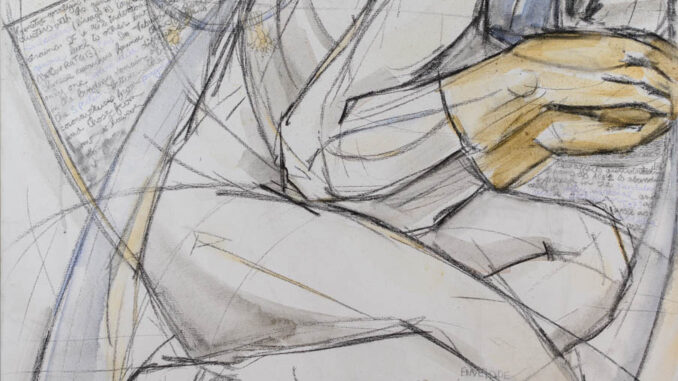 "Viral Load", an exhibition of works by artist Suzette Marie Martin at the Eclipse Mill Gallery, is a meditative suite of ten mixed-media paintings on canvas, bearing witness to the cumulative, collective loss of the COVID-19 pandemic. Partially dissolved snippets of medical text and diagrams of the SARS CoV-2 virus enclose larger-than-life-size figures, each positioned in gestures that signal states of emotional and physical distress. Included in the exhibition are preliminary charcoal drawings that reveal the working process for this series.

Suzette Marie Martin is known for her use of expressive body language, symbolic background elements, and a minimal palette of charcoal and paint. Her work has been featured in Orion magazine, and her most recent solo exhibition was at the Edward Hopper House Museum in Nyack, NY. She relocated to North Adams from the lower Hudson Valley, NY during the pandemic, and is currently exploring themes of environmental collapse. 

Viral Load, Bearing Witness to the Pandemic

Friday, August 6th through Sunday, August 29th  
Eclipse Mill Gallery, 243 Union Street, North Adams, MA.

Gallery Hours: Friday – Sunday from 11:00 to 6:00.

Contact https://suzettemartin.com/contact to schedule an appointment.