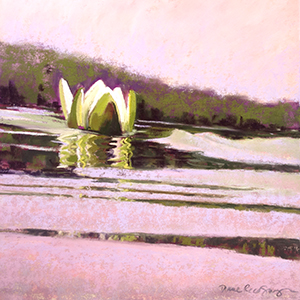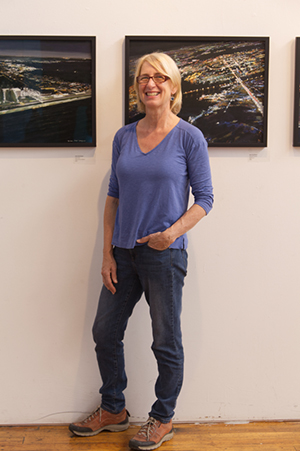 ---
Artist Statement
I am fascinated by the interaction of light and atmosphere, and delight in exploring the rich spectrum of color in the landscape. I especially love the golden light at dawn and dusk, the way it transforms everything that it illuminates.
I began working with soft pastels about 10 years ago and love their intensity and luminosity. I enjoy experimenting and pushing the medium to see how far it can go—working on hand-made surfaces, and combining pastels with charcoal, oil, acrylic, and other media.
My recent 'Aerial Series' is inspired by the view of the earth from above, typically the window of a commercial flight. During a night flight patterns of light illuminate the world below us, tracing an intricate web of connection stretching into the distance. Some of what we see is identifiable but much is ambiguous, hidden, and imagined.
These aerial images resonate with me on many levels. As I explore this series further I have become interested in the parallel between this selectively illuminated world and current political rhetoric—glorifying power, exploitation, and rampant consumption. Hidden behind the bright lights is a more complex reality. What is the impact of these values on our lives and the increasingly fragile world we live in?
I enjoy working on this series, decoding what I can, but leaving levels of ambiguity to explore. I offer the viewer an invitation to investigate the space between what is known and unknown, being curious about what is, and imagining what could be.
My Aerial Series is featured in an article in Pastel Journal's December 2018 Issue.
EDUCATION/BACKGROUND:
Bachelor of Fine Arts, Boston Museum School in association with Tufts University
Additional coursework: Bennington College, MassArt, Boston Museum School
I have studied with numerous nationally– and internationally-known artists including Jeanne Rosier Smith, Liz Haywood Sullivan, Michele Poirier Mozzone, Aline Ordman, Tony Alain, Margaret McWethy, John Redmond, Tim Hawksworth and Lala Zeitlyn
TEACHING:
I offer workshops and classes in pastel, teaching both pleinair and in the studio.
MEMBERSHIPS:
Signature Member: Pastel Society of America (PSA)
Signature member: Pastel Society of Cape Cod (PPSCC)
Member: Connecticut Pastel Society (CPS)
REPRESENTED BY:
Real Eyes Gallery, Adams, MA
True Grit Gallery, Middleborough, MA
Francesca Anderson Fine Arts, Lexington, MA
RECENT AWARDS:
Pastel Society of America (PSA), Enduring Brilliance, Salmagundi Award, September 2019
Pastel Society of Cape Cod (PPSCC), For Pastel's Only, Liz Haywood-Sullivan Award, July 2019
Connecticut Pastel Society (CPS), Renaissance in Pastels, Pastel Society of America Award, November 2018
Pastel Society of Cape Cod (PPSCC), For Pastel's Only, Dakota Art Pastels Award, June 2018
South Shore Arts Center (SSAC), Summer Arts Festival 2017, Second Place, Drawing and Pastels, June 2017
SSAC, Entryways, National Juried Show, Third Place, January 2017
PPSCC, Member Show, Second Place, October 2016
CPS, Purely Pastel, Bronze Award for Excellence, June 2016
UArt 2015 National Online Juried Competition, Best in Show, August 2015
CPS, Renaissance in Pastels, Judith Walo Memorial Award, October 2015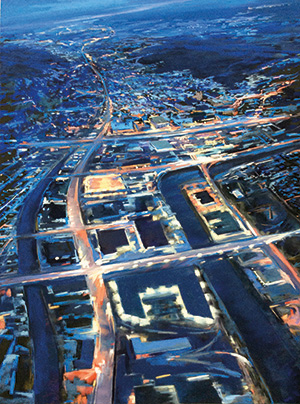 ---